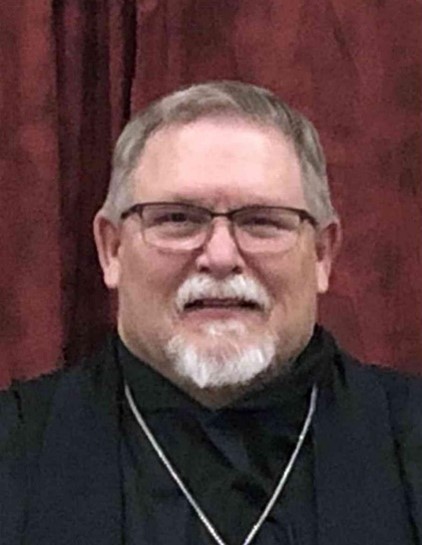 Rev. Bradley D. Viken
Pastor
More about Rev. Bradley D. Viken
Pastor Brad Viken grew up in North Dakota.  After receiving his bachelor's degree from Concordia College, St. Paul, MN in 1984 (DCE) he served for four years as a DCE, teacher and coach.  He was then called into full time pastoral ministry, and in 1992 he was ordained after receiving his Master of Divinity from Concordia Seminary in St. Louis.
Pastor Brad has served churches in Minnestoa, North Dakota, Southern California and now Ohio.  He has served as pastor for God's people at Risen Christ since November 2020.
Throughout His ministry, he has assumed a wide variety of responsibilities in a diverse array of ministry fields.  He has been an educator, camp director, a worship leader in nursing homes, has always worked well with youth, and has been active in local food pantries and other community outreach ministries.  He has always encouraged everyone within the church to be active outside the church in their community.
He has been married to his best friend and the love of his life, Lynda since 1989.  They have three great children and four beautiful, wonderful grandchildren. Some of his favorite activities revolve around family, especially grandkids.   He loves reading to these little ones.  His wife, Lynda is a former nurse and is now an accountant with an MBA.  Lynda loves to be active in many aspects of church ministry and has blessed Brad's ministry greatly along their journey.
Pastor Brad loves to teach, preach, listen, interact, lead, and encourage.  He has been told that he has a strange sense of humor and been blessed with a creative mind.  He enjoys wearing strange costumes during worship as he portrays various Biblical characters. He likes to ask questions and hear stories from the lives of others.   As a worship leader, he has written lyrics for many worship songs, often writing different words for some of the great hymns of the church.  He loves both traditional and contemporary worship styles and encourages as many others as possible to be active is all aspects of the worship.
His favorite Bible verse is Proverbs 3:5-6   "Trust in the Lord with all your heart and lean not on your own understanding,  in all your ways acknowledge Him and He will make straight your paths."  (ESV)
His personal mission statement is: Because I am saved, I will surrender, I will serve, I will share Christ.