Risen Christ Lutheran Church & School
Website Editor
School Children Christmas Performance
Posted on November 3rd, 2023
The children in our Lutheran School will present 2 Christmas performances:
On Sunday December 10th the 1st through 6th graders will sing at our 10am worship service.
On Thursday December 14th the full performance of "Miracle on Main Street" will be at 6:30pm.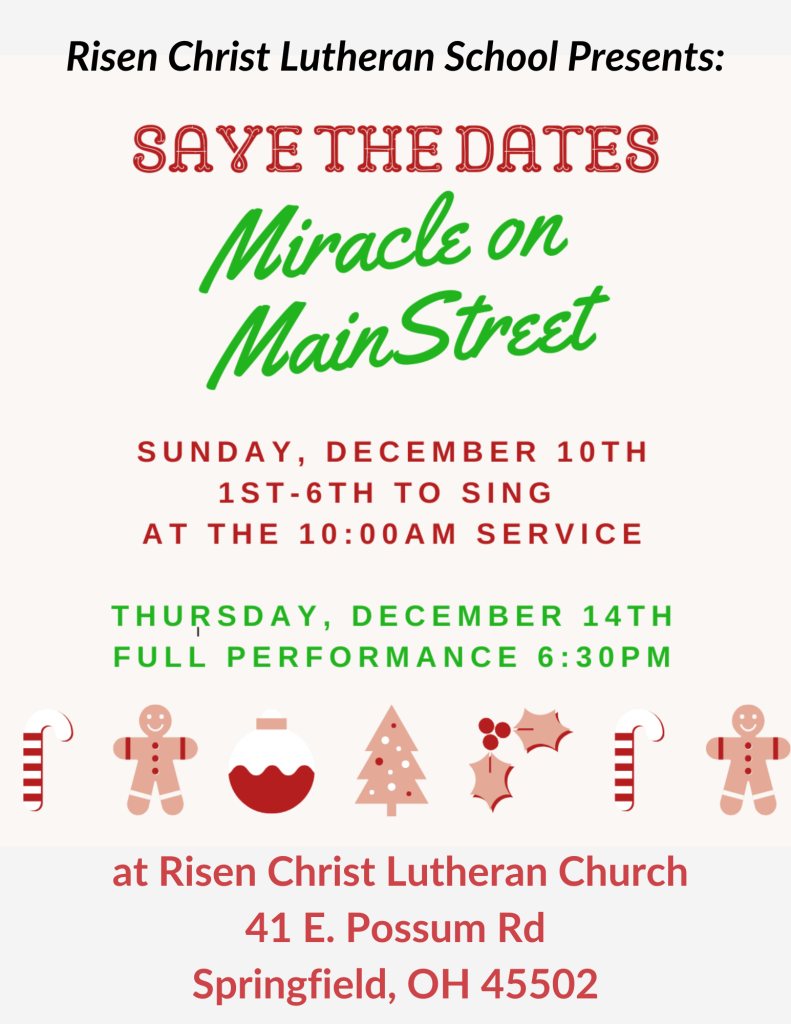 Risen Christ Lutheran School Accreditation
Posted on October 19th, 2023
After 2 years of dedicated self-study, 100s of submitted documents and 3 days of observation by a 5 member Accreditation Team, we were ecstatic to learn we had received full accreditation. Superintendent Cruetz presented our new, 5-year accreditation certificate to Mrs. Deborah Rutledge (2nd Grade Teacher) and Mr. James Brueggeman (School Board President) before the congregation on October 1st.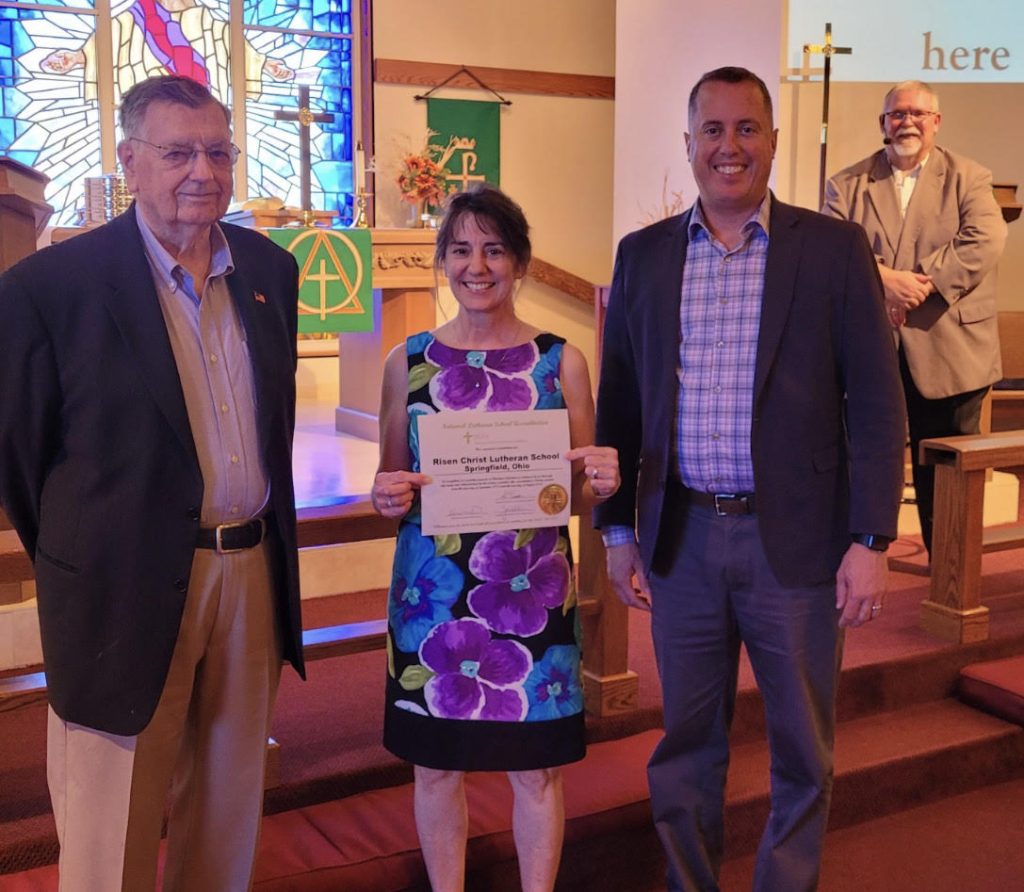 Men's Monthly Bible Study
Posted on October 10th, 2023
Men…Please join us the first Saturday of each month for fellowship and Bible study!
Meet in the Fellowship Hall from 8:00am – 9:15am, as Chuck Bern and Philip Sears lead a study titled "Jesus and the Twelve."
NEW Sign-Up Sheets for you to assist during Worship Services
Posted on November 20th, 2022
Are you thinking about serving during the Risen Christ worship services?
If you would like to help as a Greeter, Usher, Reader, Sound Booth tech or Altar Care please send see the NEW sign-up sheets in the narthex. You may also send an email to Bethany at [email protected]. Even if you signed up last year, please sign up again so we have an updated list.
List the position(s) in which you are interested, and include any dates you will not be able to serve.
You may also leave a note on Bethany's desk with the same information.
Wednesday Evening Bible Study
Posted on November 6th, 2022
Please join our Wednesday evening Bible study at 7:00pm. Elder Rob Hunt is leading a study on 1st & 2nd Peter, and 1-3 John.
Love Packages for Missionaries
Posted on October 30th, 2022
Items needed: Bibles (new or used, any translation); Reference Material (dictionaries, encyclopedias, etc.); Christian Books (adult or children, fiction or non-fiction); Magazines/Daily Devotionals (including Portals of Prayer); Sunday School Materials; CDs.
Food Pantry Needs
Posted on October 30th, 2022
During the month of November the Food Pantry will be collecting pasta and spaghetti sauce. Please put your donations in the marked container in the narthex. THANK YOU!
New Sign-Up Sheets… Please volunteer to serve during Risen Christ's worship services.
Posted on December 5th, 2021
We need additional greeters, ushers, readers, sound booth folks, and help with altar care. If you would like to assist in one of these positions please see the NEW sign-up sheets in the narthex. You may also send an email to the office manager at [email protected], and list the position(s) in which you are interested. THANKS!